Through a partnership with a collective of Inuit women from Ottawa, Pinnguaq has been honoured to build digital skills with the community as they develop their website, move towards online programming and plan their future as an Inuit arts organization.
Isaruit is a group of women from Ottawa, sharing a common belief that sewing and other arts are paths to healing for individuals, families and the Inuit community. The purpose of the collective is to develop and operate an Inuit Women's Sewing Centre open to all Inuit in the Ottawa area.
"This centre promotes Inuit language and culture for the artistic, cultural and personal, support and development of all participants," reads the group's vision, in part.
Pinnguaq's partnership with Isaruit started with an Inuk woman named Marie-Lee Singoorie-Trempe, a member of our delivery team, who established a relationship with the organization by taking a parka-making course offered just before the pandemic lockdown in March 2020.
"As a result, Marie-Lee developed a beautiful logo for us, and led us into ideating for a website," reads a statement from Isaruit.
"When we were reaching out to translate our programs into an online format, we reached out to Marie-Lee in September, who pointed us to Mary McDonald and her department of Pinnguaq."
This sharing of skills and information has since evolved into a working, training and collaborative relationship between the organizations, including on-the-job training as members of Isaruit continue the development of their website.
"I'm grateful to the elders and women at Isaruit for their time and knowledge they so lovingly shared with me," says Singoorie-Trempe.
"It's really an honour for me to be a part of making Inuit culture and traditional skills accessible to Inuit. These connections are what motivates me to keep striving for my community. It's important for me to build these relationships that celebrate and reclaim my culture and I'm fortunate to have this opportunity. I'm looking forward to working more in the Inuit and Indigenous arts communities."
The partnership has also included skills training such as how to use Google Drive and Google Photos, initiating the web hosting process, selecting a web template and navigating website design terminology.
Pinnguaq has also been able to assist with filming, editing and translating videos, advising on the development of tech arrangements for an Inuit Elders' Gathering in consultation with the City of Ottawa, as well as offering insight with respect to the purchase of an iPad for video editing purposes. In 2021, Isaruit staff will work with Pinnguaq to learn the skills needed to complete the video editing using the new device.
"Most important, though, are the spinoffs from our working with Pinngauq that have given us courage to move ahead with our programming online, and to envision our future as an Inuit Arts organization in Ottawa. The fact that Marie-Lee and Mary have been able to maintain their end of the conversation when we are panicking at not understanding the vocabulary and intent of our digital difficulties, and to help us through the barriers we face with patience, kindness, and a good understanding of the broad challenges of the Inuit community is invaluable."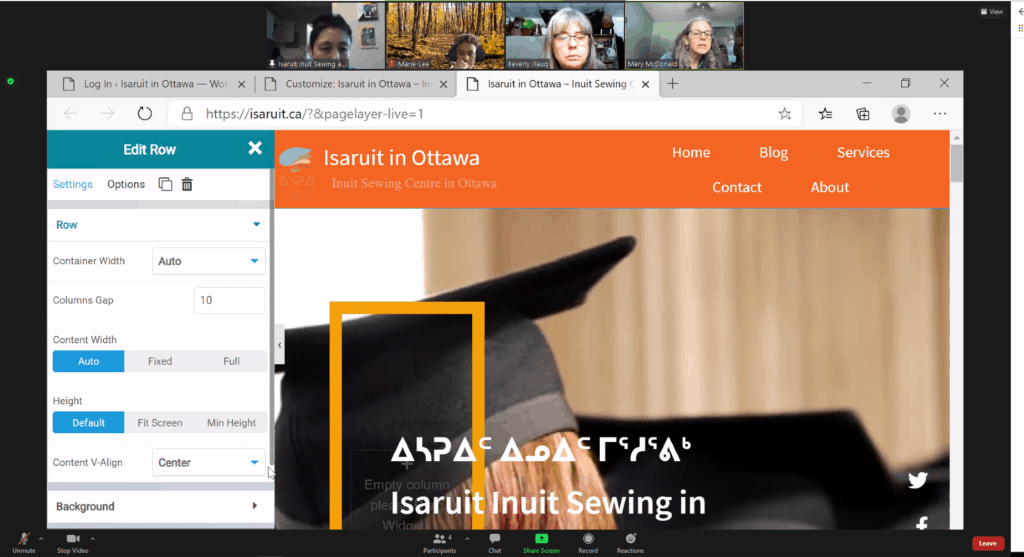 Isaruit was also able to connect with the Pinnguaq's manager of the Digital Skills for Youth program and the organization is hopeful that requirements for post-secondary education may be adjusted to allow them to utilize this program to gain access to the tremendous aptitude and skill sets of Inuit youths in Ottawa.
"Our Ottawa Inuit community needs to have the same criteria for this program as Nunavut and other northern communities," says Isaruit.
Other barriers to the Inuit community in Ottawa include the lack of broadband internet access and limited data plans accessible on phones and tablets, challenges many rural and remote communities across the nation continue to face, and obstacles Pinnguaq looks forward to seeing dismantled.
"The Board of Isaruit wishes to express their great gratitude to Pinnguaq as an organization for stepping into the technical breach that we, as older women in the Inuit community of Ottawa, experience. We are particularly thankful to Marie Lee for developing our wonderful logo, and to Marie Lee and Mary MacDonald for their continuing support as we slog through the development of our website," reads the Isaruit statement.
"Pinnguaq has been extremely helpful to Isaruit in helping us develop capacity to serve Inuit in Ottawa, and particularly in giving us courage and hope to continue our work, particularly as we face the challenges of these pandemic times."
As for Pinnguaq, this partnership with Isaruit remains a beautiful example of the importance of collaboration, skills development and serving others in order to strengthen the community as a whole.
"Through the New Year, we will be continuing to work on developing their website as well as expanding into video editing. The videos are intended to be posted on Isaruit's website as online courses in an effort to address COVID restrictions," says McDonald.
"It has been really exciting to be part of the effort that will allow the Isaruit organization to stay connected and to share traditional knowledge with their community."