Welcome to Pinnguaq, the new home of Coding Quest
As announced by The Learning Partnership (TLP), welcome to the new home of Coding Quest. We're excited to continue the Coding Quest story and invite you to be part of the next chapter!

Pinnguaq is a Canadian organization dedicated to science, technology, engineering, art and math (STEAM) education for K-12 students across the country. Coding and digital literacy are core elements of our curriculum, and we're excited to bring our expertise and experience to the Coding Quest platform.
Soon, Coding Quest will be re-launched and will continue to offer the free-to-educators, high-quality learning resources that teachers across Canada have brought into their classrooms. Until then, we want to ensure that you and your learners continue to have access to coding and STEAM education, while we work to launch Coding Quest. We're happy to provide you with free access to these resources.
---
Introduction to Coding Scratch Course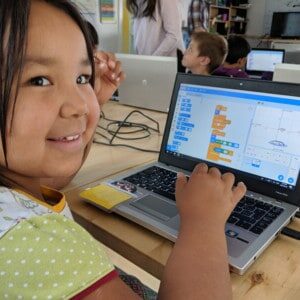 This free course introduces your students to coding through Scratch, a basic coding language that uses a 'building block' coding style to create animated stories, interactive games, simulations, and beautiful artwork. Your students just need to log in and they will be guided, step-by-step, through embedded video tutorials hosted by our qualified teachers. Alternatively, you can create your own account and take your students through the course as a group activity! Contact us at codingquest@pinnguaq.com for support with enrolling whole classes or groups of students!
Free Root & STEM Magazine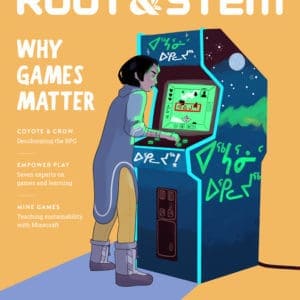 Root & STEM is our free STEAM-focused magazine for K-12 educators. It's published twice yearly (print and digital) and is full of diverse and innovative perspectives, curriculum and original content that's valued by forward-thinking educators from coast-to-coast-to-coast. Content is extended with additional games, podcasts and more.
Subscribe to receive your free copy (print or digital):
Coding/Scratch Video Series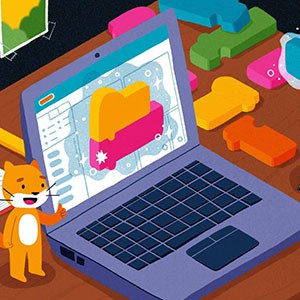 We've created a growing library of video tutorials to support teachers and students to build specific coding skills or to incorporate coding into other instructional areas like art, literacy and mathematics. There is no registration or subscription required to use these video resources. You can start right away!
---
These are just three examples of our wide library of STEAM resources for teachers! We look forward to working with you to build coding capabilities, and digital expertise for the next generation of Canadians. Do you have questions, or ideas about how best to enhance the Coding Quest platform? Please contact us at codingquest@pinnguaq.com – we see this as a partnership between Pinnguaq and the Coding Quest community.
Oh! And one more thing: Are you a grade 1-3 educator interested in access to the Dash's Neighbourhood/Class Connect program previously facilitated through Coding Quest? We have a limited number of class tokens available for public school teachers. Contact us if you are interested!
Please reach out any time if you have questions about Coding Quest or to learn other ways we can support you, your students and your school with STEAM education!