15 Minutes
After over a year of work, Pinnguaq, in collaboration with Sesqui (a Canada 150 Signature project) has finally released Meridian, a collection of six VR experiences on iPhone, Android, Oculus Rift, and Samsung Gear VR. Pinnguaq would like to acknowledge the ethical dilemma of supporting Canada 150 projects since Canada 150 represents a hundred and fifty years of colonialism and oppression. This project, while funded under the Canada 150 banner, is collaborative with Indigenous artists, designers, and filmmakers, and serves to advance the Indigenous narrative in Canada, rather than to promote the colonial view of Canada 150 celebration.
---
Showing Off Meridian
One of our favourite parts of this project has been working with Polarman – a project which involved graphic art, 360 video, VR programming, 3D modeling, and voice narration. Polarman is a real-life superhero from Iqaluit who advocates for youth, fights bullying, and shovels his neighbour's walks. The experience we created in the Meridian platform starts the viewer out in the polar cave, which our 3D Modeler Brandon Bunnie painstakingly created: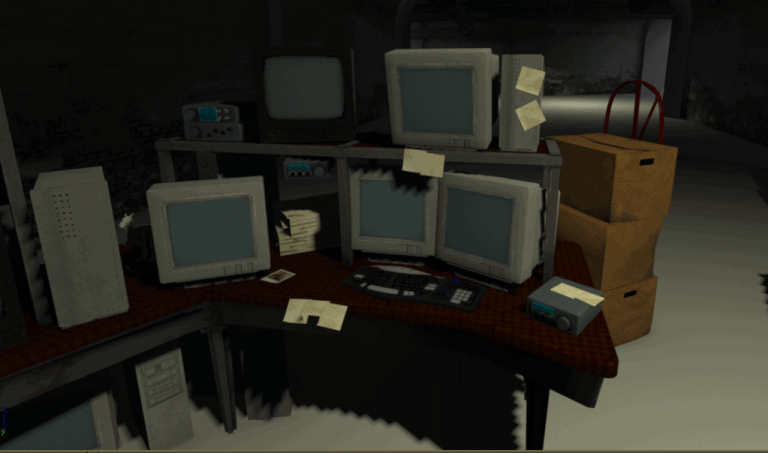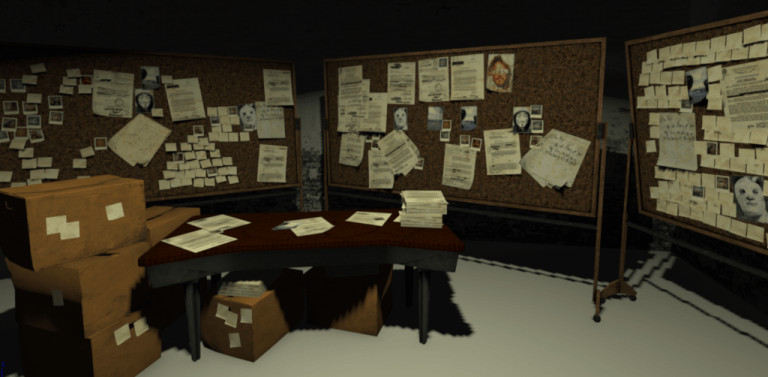 The viewer uses gaze based technology to make a choice between three artists that Pinnguaq enlisted to illustrate a Polarman comic book to accompany the narrative:
---
Andrew Kappik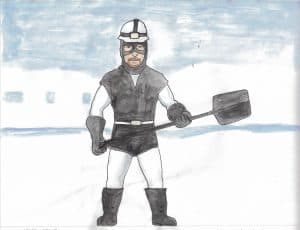 ---
Leisha-Marie Riddel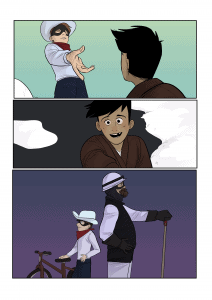 ---
Daniel Day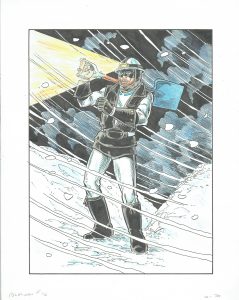 Once the viewer chooses an artist, they are transported to various locations around Iqaluit while Polarman narrates his own story. Comic panels from the artists appear around the viewer, illustrating the tale. Ryan Oliver did the work of transporting the camera equipment to the different locations, operating the seven GoPro Heros in the Arctic climate, including by the airport. He was a little concerned because the equipment "doesn't not look like a bomb." All's well that ends well, though!
---
Where to Find Meridian
You can download the Meridian app, published by Sesqui, for free by searching it in the App Store, the Oculus Store, the Gear VR store, and the Google Play Store. It also includes the following experiences:
A Tribe Called Red: Indian City 360° – Featuring music by Indigenous DJ crew, A Tribe Called Red, this interactive video features gradient audio that lets viewers "mix" a song with their eyes.
Pikangikum – Puppetry and animation illustrate traditional Ojibwe teachings. A film by Amanda Strong, in collaboration with students from Pikangikum, Ontario.
Hani al Moulia: My Own Perspective – Join Hani al Moulia, a new Canadian who fled war in Syria, and see moments in which his perspective crystallizes into photos of amazing clarity.
Waterball – Designer Marian Bantjes collaborates with electronic musician Loscil, to create a kaleidoscopic experience composed of video loops of water and a generative soundscape.
HORIZON – A 360° visual symphony celebrating the people, landscapes and freedoms that make Canada home. You'll see Canada like never before.
---
You might also like