Connecting the land, technology and Inuit principles, learners in the North are using new kits provided through Pinnguaq to explore science, technology, engineering, art and math (STEAM) in the world around them.
Through these kits, participants learn about the Innunguiniq principles (how to become a capable human being) and about their responsibilities as environmental stewards.
"The activities in the Environmental Steward kits incorporate elements of Inuit Qaujimajatuqangit (traditional Inuit knowledge) principles and tech with the goal of learning how to employ them in our everyday lives. Through the kits, participants explore their roles in the community by learning new digital skills," says Marie-Lee Singoorie-Trempe, a Digital Steward with Pinnguaq.
Mary McDonald, Manager of Travel Delivery for Pinnguaq, hopes the kits help participants build connections between the land and technology, and with the Inuit Qaujimajatuqangit principles in a very direct way.
"We hope that this kit offers STEAM education in a way that is culturally relevant and representational to communities in Nunavut," she adds.
Pilot
The initial delivery of these kits was to Iqaluit as part of the CREation grant. Since then, the materials and guidebooks have been sent to a school in Grise Fiord, Nunavut, with other groups across Canada already expressing interest in participating.
"We're very excited to have students, families and teachers piloting these kits and we are really looking forward to their feedback and on how to make the opportunity even more engaging and impactful," says McDonald.
"It's wonderful to hear stories on how the students have worked together with family members to do these fun, environmentally significant activities that bring technology into their everyday world. We hope that the kit activities spark ideas for more ways to use technology in innovative ways to look at the climate change challenges facing us today."
Avattimik kamatsiarniq
One of the guiding principles of Inuit Qaujimajatuqangit is Avattimik kamatsiarniq, meaning to respect and care for the environment, land and animals. These principles provide a framework to help participants situate themselves and respectfully navigate within their environment.
"Avattimik kamatsiarniq requires we pay careful attention to the environment as an important part of survival and sustainability. The care and importance we place on this also impacts on our personal health and well-being. For all of these reasons, it is important to think about the environment we grow up in and how we become good caretakers and good contributors to a healthy and positive environment," writes Shirley Tagalik, on Inuit Principles of Conservation.
The Environmental Steward kit includes the Micro:bit, a tiny computer that provides a hands-on approach to coding and the Enviro:bit extension adds different sensors that can measure and display air pressure and temperature. Using these tools, participants will develop qanuqtururangniq, the ability to think deeply and use knowledge learned from observation. The activities encourage learners to use this skill by taking measurements of what they observe in their local environment.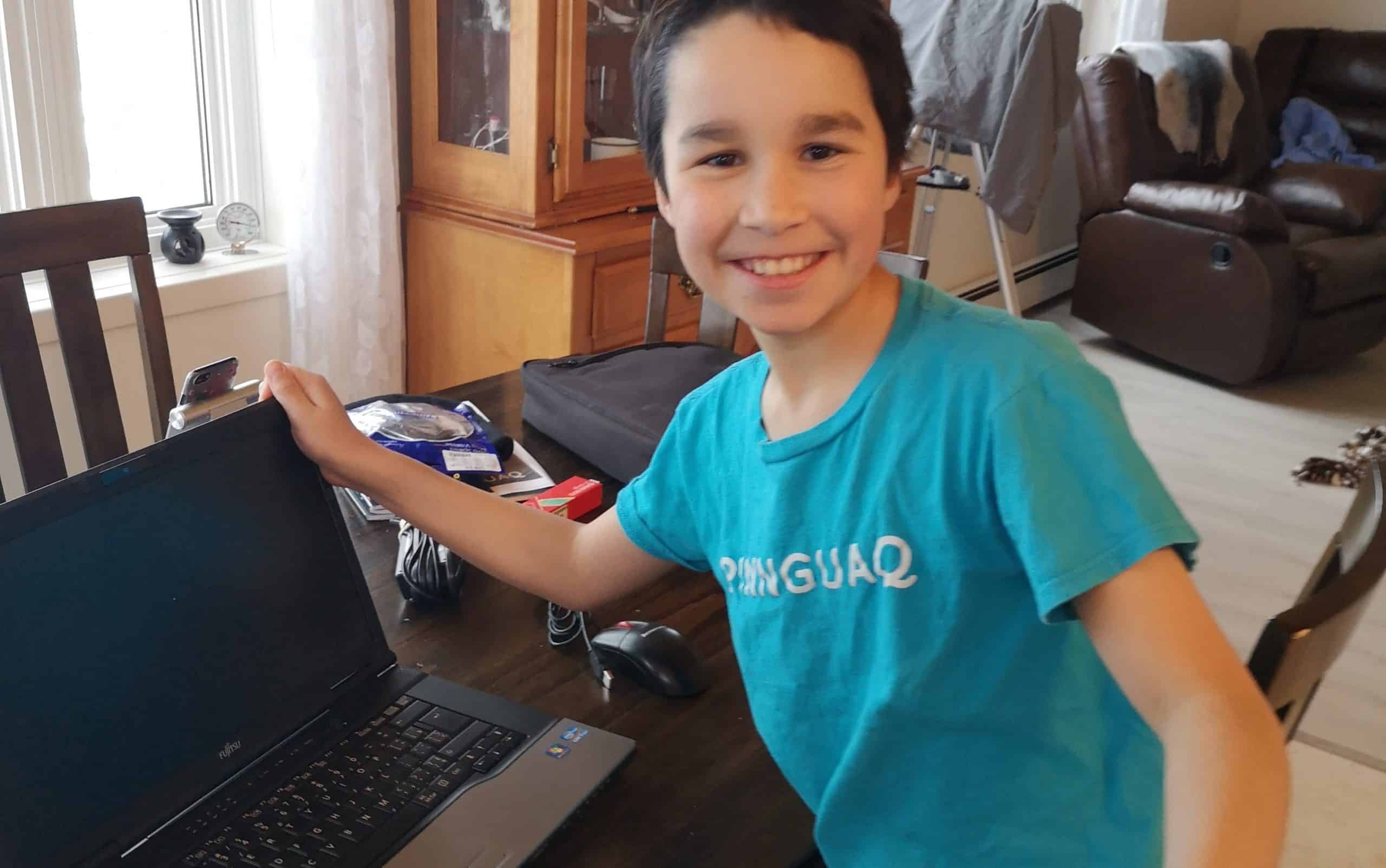 Kit Contents
Participants in the Environmental Steward kit pilot received:
a printed copy of the Getting Started Guide
a refurbished laptop
a USB drive loaded with files and resources
a Micro:bit bundle, and
an Enviro:bit
The refurbished computers came preloaded with:
Various programs:

Scratch
Twine 2
Audacity
Magica Voxel
Graphics Gale
Krita
Inkscape
Autodesk Sketchbook
Blender
Micro:bit Technology
The Micro:bit and Enviro:bit technology help learners become Environmental Stewards and follow the Inuit principles of qanuqtururangniq and avattimik kamatsiarniq. The Micro:bit and the Enviro:bit have incredible sensors that will give the user information about their environment.
The Micro:bit is a pocket-sized computer. Learners can program this mini computer with their computer and the MakeCode editor. They can use the online editor, or the offline editor that is installed onto their computer and loaded onto the USB. Or, participants can install the offline editor that is on the USB stick that comes in the kit onto any computer.
A guidebook included in the kit helps participants learn how to code and use their Micro:bit.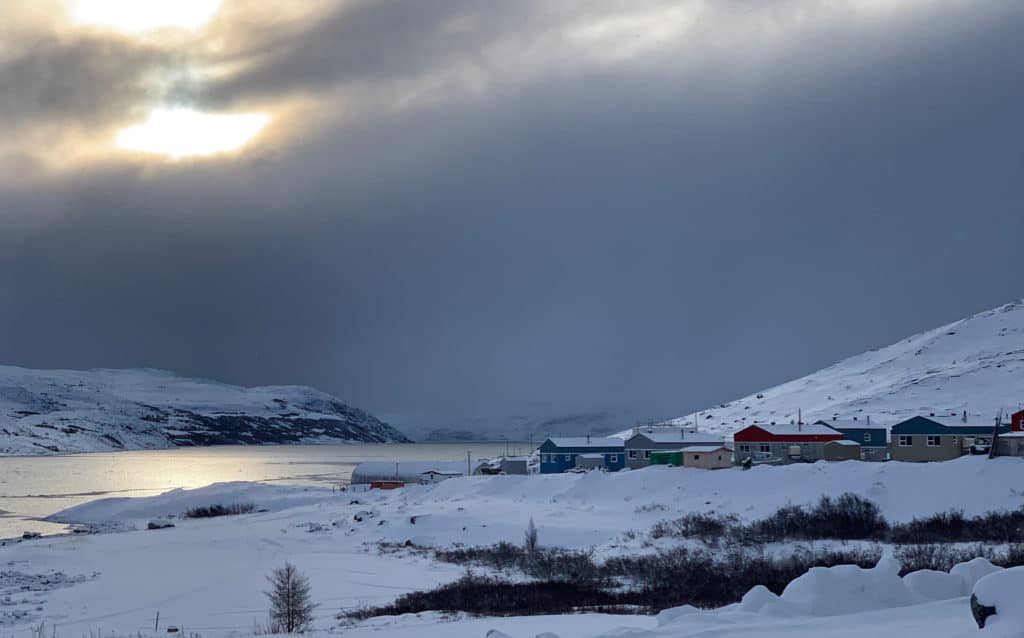 Activities
The kits include a number of resources for the learners, as well as fun, educational and engaging activities to try.
The Micro:bit Dice and Race for Change Game explores issues surrounding climate change. In this game, participants learn about the climate crisis and how they can help prevent it.
Through the Spot the species counter activity, learners consider the wildlife in their local habitat. They can observe what species live in their environment and create a counter to track them. Participants are encouraged to think about the local ecosystems, including what habitats exist in our environment.
"What changes are happening? Global warming and climate change is happening quickly, and it's affecting the environment. This affects how long we can access the sea ice for travel, hunting, and fishing. Humans are not the only beings affected by climate change. Plants and animals are also affected, and it's crucial to observe their patterns so we can predict how they will react to these changes," reads the Getting Started Guide for the program.
"Our job as environmental stewards is to note the changes that are happening to the plants and animals in our environment and take action to protect them. As Inuit say: 'our actions come back to us.'"
Other activities incorporate the use of the Micro:bit's compass sensor as well as the Enviro:bit's ability to take temperature readings.
For those looking for a non-computer activity, the kit also includes Bytesized, a comic created by Ian MacLean. This comic can also be found on pages 28 and 29 of Root & STEM, Issue 1.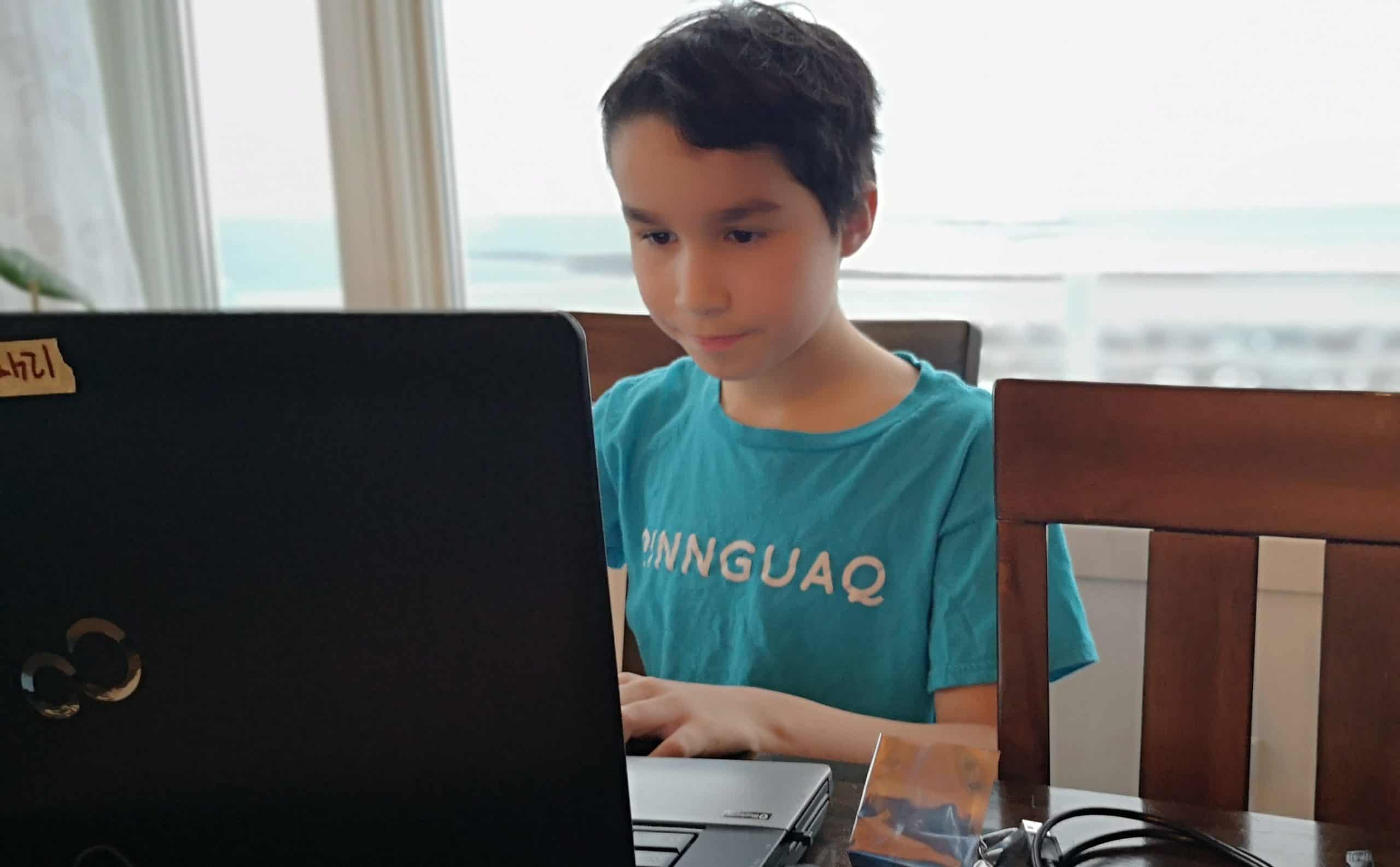 Participant Feedback
Feedback from participants in the program has been overwhelmingly positive thus far, with young learners and their parents expressing gratitude for the opportunity.
One parent wrote: "Brogan loves everything about the kit and has been enjoying it since we figured it out. The one he liked most was the counting code and mentioned maybe he can use it to count ptarmigan, but not if it's – 25 or colder."
Another parent said the only struggle was keeping the learner's dad away, as he was enjoying using the Micro:bit as much as the learner.
"Thanks for checking in! Breton is doing really well with the [Environmental Steward] kit. He's really only starting out on it, but he and his dad LOVE it (our biggest issue is keeping him away from it and letting Breton do it, ha)…He has been extremely engaged with the kit when he's worked on it and he says he doesn't need any help," wrote the parent.
Community Impact
The Environmental Stewards kit pilot project was particularly timely as Nunavut entered into lockdown in response to COVID-19 at the same time we were poised to deliver the makerkits. This was the first time the schools were closed in Nunavut due to the pandemic and many students would not have access to computers, internet or technology to stay connected. The Makerkit gave them educational content, activities and access to technology through the lockdown.
Through the pilot, Pinnguaq reached a number of young learners ranging in age from eight to 11, from a mix of backgrounds, although the majority of the students were Inuit. Participants in the program had attended an in-person makerspace camp the previous February.
"This program was extremely valuable for the kids who were able to join. We would love to be able to do more of this work," says McDonald.