This issue of Root & STEM focuses on ocean conservation and the role communities play in successful and significant ocean conservation practices. In each article, we see examples of the ways in which communities and everyday citizens play a critical role in ocean conservation advocacy, data collection, and marine mapping. This issue highlights the importance of history and the various perspectives (both Indigenous and non-Indigenous) on building successful ocean conservation practices.
Guest Editorial
I'm honoured to write an op-ed for Root & STEM by Pinnguaq, an organization that started in my hometown of Pangnirtung, where I learned firsthand about conserving precious resources.
My parents and elderly family members taught me to have high regard and respect for the animals we harvest for our sustenance. I started working for the Iqaluit office of the World Wildlife Fund Canada (WWF) in an official capacity in the spring of 2018, but had had interactions with them prior to that. The organization impressed me because they wanted to work with Inuit. It is on that premise that I started my work with WWF, consulting with communities on how we can assist them in their efforts to manage limited resources here in Nunavut more effectively.
The work we have done during my short time with the WWF has been very rewarding for me personally and truly uplifting for some community members. For instance, we issued mariner's guides to shipping companies to increase their awareness of marine mammals and their migratory routes to prevent casualties.
The WWF is also working with the community of Taloyoak in their efforts to set aside Aviqtuuq (Boothia Peninsula) for the bene-fit of the Inuit—what a nice, original concept!—in order to care for it and ensure its protection. We look forward to the day when Aviqtuuq will become an Indigenous Protected and Conserved Area, with community members enjoying its resources for as long as they wish.
We also worked with the Mittimatalik Hunters and Trappers Organization to ensure their voices were heard during the environmental review process over Baffinland's proposed Mary River Mine expansion. We offered technical expertise and other support throughout the hearings, including funding a video presented by the Hunters and Trappers Organizations so community members who were unable to attend could still testify about the impacts of mining on ecosystems, wildlife (like the narwhal), and residents. Those Inuit who went before the board were heard and the Nunavut Impact Review Board recommended rejecting the massive expansion.
We have tried to follow up on requests for community members to meet with federal decisionmakers to ensure they are heard there, too. Sadly, the federal government, which talks endlessly about reconciliation, has refused to meet with the Inuit of Pond Inlet, who will have to live with their decision. But we will continue supporting the community of Pond Inlet in their efforts to conserve treasured resources.
We have also been travelling to communities across Nunavut, helping to make certain that their concerns and wishes are added to the Nunavut Land Use Plan. We look forward to ensuring they are included in any new plan adopted by the governments and Inuit of Nunavut.
These are just a few of the projects we have worked on, and I look forward to more progress on other fronts. Qujannamiik for asking me to explain the work of the WWF in my homeland of Nunavut.
– Paul Okalik
Lead Arctic Specialist, World Wildlife Fund Canada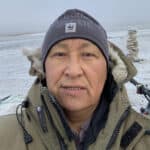 ---
Podcasts
---
Featured Content
Below is a collection of stories, activities, comics, and lesson plans featured in the sixth issue of Root & STEM.