By Jamie Steel
In his classic song "Jamming," Bob Marley sings about pride and truth. They're big sentiments for a song about having fun—but they speak to the ways in which play can build confidence and help tell stories.
Each year, Global Game Jam, an organization founded in 2008, holds game jam events. Jam sites are created around the world and participants create games based on the theme announced at the beginning of the jam. Event sites have been hosted in more than 100 countries, and thousands of games have been created.
The Nunavut Global Game Jam was registered with Global Game Jam in early January 2021 as an official jam site. From January 29 to 31, our Iqaluit Makerspace had the privilege of playing host. Attended by six members of the community, three of whom were students from Inuksuk High School, the event encouraged game development as a way to approach problem solving, collaboration and expression.
"Through the jam, participants created art, composed music, developed stories and coded two games," says Alex Smithers, Manager of Computers for Success (CFS) Nunavut, one of Lichen's partner organizations. Smithers led the jam, virtually assisted by Logan MacDonald, an intern with CFS.
"The weekend was filled with fun and laughter as we discussed wacky game ideas and some suspect art," Smithers went on. "Spirits were high from Friday night to the deadline at 5 p.m. on Sunday. In the end, participants said they'd learned a lot about game development, and had discovered that it was an activity they could participate in and contribute to. Everybody seemed keen to try out new ideas and build upon the skills they learned in future jams."
---
The Games
Participants of the jam formed two teams, the Wildcatz and Team Kuusta-paw. Over the course of the event, each team created their own game using a variety of storytelling and digital skills.
The Wildcatz created a game titled Snow Rescue, in which you play as Charlie, who must battle anxiety while snowmobiling out on the tundra as part of a search-and-rescue team. The game was built in Scratch and consists of side-scrolling levels of increasing difficulty where you drive your snowmobile, collect items, dodge obstacles and even have to avoid villainous snowmen. The team created original art, composed an intricate story that is weaved into the action and even composed the original music that can be heard throughout.
Team Kuusta-paw created Find Poster Nutbag, an RPG-style adventure that takes place in Iqaluit. As a player, you wake up one morning to find that your dog, Poster Nutbag, has gone missing and you must traverse town to find him. Along the way you'll visit iconic Iqaluit landmarks such as QuickStop, the Road to Nowhere and the Inuksuk High School, and meet some townsfolk. The game was created using Unity and also features original art art and music.Both games are available to play through Pinnguaq's Itch.io page.
---
Participants' Point of View
For the participants, the game jam was an opportunity to learn new skills, meet new people and engage in an activity they may not have otherwise had the chance to explore. Some of them even noted that the event helped them learn about themselves.
"I had a lot of fun participating in the Global Game Jam," said Cole Tucker, a high school student. "I learned that I was good at pixel art. I had always thought [I might be] but now I know that I'm good at making music. I learned that making games is a lot of fun and hope to do it again in the future." Tucker also said he told many of his friends at school about the event and they were excited to participate in the next jam.
For others, the weekend shone new light on the tasks themselves.
"It was cool, I learned a lot from it, like that programming isn't always just scripting," says Adam Guimond-Pishuktie.
Courtney, another student participant, spoke of how the time constraints of the event allowed her to sidestep the pressures of perfectionism. As such, she was able to have fun and experiment in ways she otherwise might not have.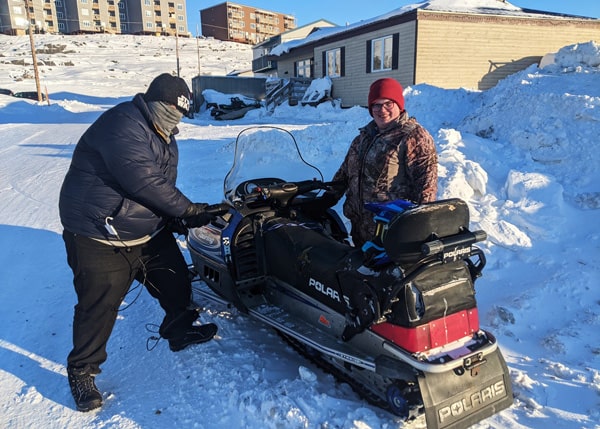 ---
An Educator's Perspective
"I had a lot of fun! I loved having the opportunity to create a game set in Iqaluit and tell local stories. I liked meeting new people in the community that I wouldn't have otherwise and that we were brought together by a shared storytelling project," says Lael Kronick, a teacher at Inuksuk High School.
"I was able to learn about photo editing, digital art and animation in the context of a game. I hadn't realized how many different roles are involved in making a game and how anybody can contribute, even if they don't have technical skills."
Kronick says she was particularly inspired by the talent of the high school students who participated and looks forward to seeing what they create next.
"As a teacher it was wonderful to see these youth in a different context and see their creativity and skills shine through a medium that they don't always have an opportunity to explore at the school. I was impressed by the amount of work they put in, their independence and their excitement to learn new things. I hope they can find more opportunities to continue learning game development and showcase talent and creativity."
---
Next Level
Smithers says the Nunavut Game Jam proved to him there are numerous stories to tell in the Iqaluit community but that, due to the constraints of the event, both teams were only able to touch on the complex stories they prepared for their games. He looks forward to hosting another jam in the future and says based on the response from participants and the community at large, it seems like the momentum behind these events will only continue to grow.
"Everyone mentioned how it was a lot of fun and the event was well received by the community," says Smithers, noting high engagement in the town's Facebook group.
"I think people liked seeing the accomplishments of local talent and their community as well as their environment being represented in the game format."
As for the greatest takeaway from the jam, Smithers says it was the personal development of those involved.
"Perhaps the most significant outcome of the event was that participants emphasized how participating demonstrated to them that they have skills that may not have been realized otherwise. They feel more confident in their digital skills and learned that game development is a pursuit that is available to them," says Smithers.
"Cole, Courtney and JJ [the third high school student who took part] are all talented digital artists and participation in the game jam helped display their work."