15 Minutes
Life as we knew it has changed drastically over the past couple of months. Times like these can be scary and stressful, however, in this digital age we have been able to adapt quickly. We are relying on technology more than ever as digital content and consumption are at an all-time high. The digital world has grown rapidly as education has shifted to e-learning and people are working remotely. Businesses are now having to strategically use more digital platforms and e-commerce. Collectively we have slowly come to grips of our current reality. Unfortunately, many people have lost their lives, their jobs, local businesses are being affected, and our economy has taken a big hit. There's no denying this harsh reality. Technology can't solve everything but during this pandemic, it has helped us progress and stay connected. Below are some examples of different industries.
Health
The innovation and advances in technology has been quite amazing. Within recent years, 3D printing has been on the rise; with the increasing global shortage of Personal Protection Equipment (PPE), companies and organizations have taken action to produce 3D printed PPE products. InkSmith, a company located in Kitchener, Ontario, has been a leader in this movement to support local frontline workers. They create a variety of STEAM related workshops and products including 3D printers, laser cutters, and robotics for educators. InkSmith has created an initiative called CanadianShield, which is working towards providing frontline workers with the equipment they need to stay safe. They transformed their office into a manufacturing facility to produce laser cut face shields for Ontario hospitals. Another great example is Copper3D is a Chilean/US based company. They have created an initiative called #HackThePandemic. This initiative allows free access to their reusable, and high-quality NanoHack N95 Surgical mask STL file. So anyone with a 3D printer can print these masks. The NanoHack Mask is a great example of how we can use technology to make a positive impact especially during times like these.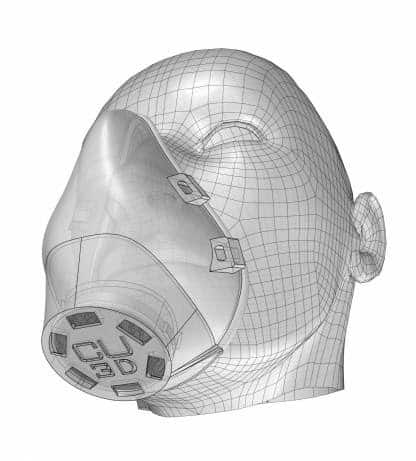 Another impactful initiative is Coty Inc. which owns companies such as CoverGirl and Sally Hansen. Coty Inc. has recently started producing hydro-alcoholic gel, which is used as hand sanitizer at their facilities in Monaco and the United States. They will distribute their hand sanitizer free of charge to medical and emergency staff, as well as their employees. It is estimated between production and donations that the corporation will reach over tens of thousands of units per week. Which will create a phenomenal impact on healthcare. Click this link if you want to make your own hand sanitizer at home!
Arts and Culture
A lack of creativity and culture can make life feel a bit dull, but the arts have always been there to spice up our world. In efforts to keep people's spirits up, we're seeing arts and cultural organizations becoming more digitally based. Several musicians took to live streaming to provide online concerts for their fans at home. Museums and art galleries have taken a creative approach to bring outside attractions into the comfort of our homes. These places have created virtual tours, online exhibits, and interactive features on their website:

Socialization and Streaming
Social media has become one of the primary ways for us to stay connected. Apps like Zoom and Houseparty have made it easier and fun to connect with our friends and family. Some platforms have built-in features like Netflix and Rave where you can stream videos and games together while being able to chat within the platform. Between February 10 to March 29 the RPS (Requests per Second: which is the overall internet activity) has seen increases in various industries:
Streaming: +29.6%
Gaming: +28.54%
Social Media: +40.88%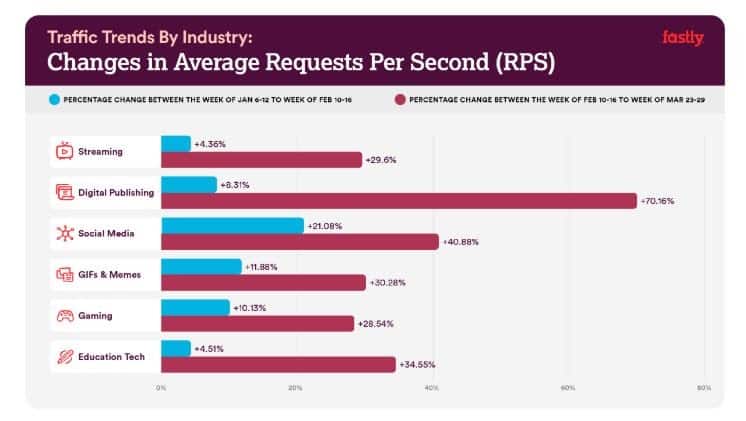 Ecommerce
E-commerce has made an incredible impact on the economy and has restructured businesses along the way. E-commerce has made it possible for you to shop in the comfort of your own home. During the COVID-19 pandemic, online retailers saw a drastic increase in sales and online traffic. Amazon is one of the largest e-commerce marketplaces in the world; during the month of March, Amazon had seen about 4.06 billion visitors on their site. Overall retail websites collectively brought in 14.34 billion visitors just in the month of March alone. Virtual storefronts are on the rise; many businesses have turned to e-commerce to be able to continue to sell their products. In Canada, online sales for household appliances, electronic devices, building material increased by 587%, where food and restaurants increased by 188% between March 11 and April 14, 2020 compared to 2019. As you can see from these statistics the use of e-commerce has increased drastically.
As uncertain as the future is, we are still able to stay interconnected through various platforms and devices. The question is, will we be utilizing technology how we are right now when this is over or will we regress and be more physically connected?
---
You might also like