4 Minutes
Siku is the Inuktitut word for "sea ice." It's also the name of a new app: an Inuit-led social media project, developed by the Arctic Eider Society, that is designed to help hunters and other community members navigate and share knowledge about a northern landscape in flux.
Available on both mobile and web platforms, SIKU provides tools and services to support ice safety, language preservation, knowledge exchange, safe travel and self-determination.

Joel Heath, Executive Director of the Arctic Eider Society, explains that Inuit were already using social media platforms like Facebook to trade knowledge—but that meant giving away their intellectual property. Furthermore, limitations on those platforms made them inadequate for sharing knowledge over time.
"With SIKU, we can allow people to own their own data, develop a privacy policy, and control how their data is shared." Users can post photos and share hunting stories, which are presented along with news feeds, satellite imagery and climatic data on tides, marine forecasts and sea ice. [SIKU pulls some of its ice-thickness data from the SmartICE project; see page 18 for a feature on SmartICE –eds.] Privacy settings are tailored specifically for Indigenous knowledge, to ensure no one can use the data without permission.
The app features profiles of wildlife, sea ice and traditional place names, all of which can be tagged to create cumulative knowledge banks—as SIKU's website puts it, "Living wikis of Indigenous knowledge."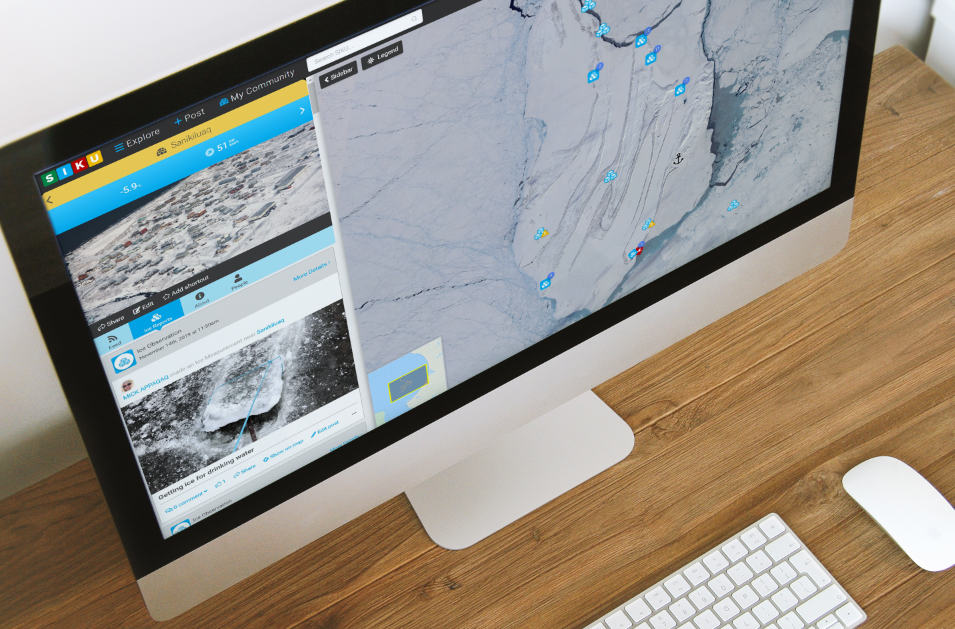 "The classic approach was that elders would share knowledge [of what they saw happening on the land] with scientists," says Heath, "and then the scientists would say, 'That's cool,' and then spend five years trying to do a study to prove what the Inuit had already told them was true." With SIKU, the continuous data stream coming from hunters in the field—which, until recently, was only shared orally—can be recorded, added to and owned by Inuit.
This approach is reflected in the app's guiding principles: respect, self-determination, ownership of intellectual property, and integrity—all centred on protecting and mobilizing Inuit knowledge.
One of the early stewards of SIKU was the late Piita Kattuk, an elder from Sanikiluaq. He passed away in November 2019, but his words continue to inspire SIKU's mission to bring together tools and technologies from both traditional Inuit culture and the contemporary digital world: "It's time for the computer and the harpoon to work together."
Visit the SIKU website to learn how to use SIKU in classrooms and workshops.