Photos Courtesy of Dan Kitchen
Dan Kitchen has always been a man on the move. "I think back, and I can remember making an automatic back scratcher or a little thing that would launch beans," says the resident of Kawartha Lakes. "It was always about firing something or moving something."
That passion for motion is what powers Kitchen's latest venture. Make Stuff Move offers tools and resources for educators and makers looking to learn more about how to tinker well. It's driven by the idea that using tools and everyday materials to develop hands-on skills is an effective and fun way for kids to learn about STEAM.
Unsurprisingly, the project originated with a problem that needed solving. Early on, Kitchen discovered that although he liked making moving machines, there was a pesky little problem in the middle of them: the motor. Specifically, how to mount it.
"I was trying to build this robotic bucket that drove around, and I was spending most of my time trying to mount motors into this project, making all kinds of weird brackets," says Kitchen. He noted that this was the same problem he'd had as a kid learning to tinker. "I made a few sketches and had a 3D printer. So I started to play around a bit."
What resulted is the Servo Sock, a casing that snaps over top of a regular, replaceable servo motor, adding a surface that can easily be mounted, cut, shaped, screwed into or otherwise altered to suit the builder's needs. When connected to a controlling device, such as an Arduino or Raspberry Pi, the motor can easily be used to create moving objects.
It took Kitchen and his business partner, Jon Edwards, about three years to get a patent for Servo Socks. At the beginning of 2020, they were just starting to build relationships with school boards and getting ready for their first big trade show when the pandemic forced school closures around the world.
"Last year was tricky," Kitchen says. "But the silver lining was developing a much better kit." Their kits now include a customized Arduino shield (a modular circuit board that can be added to an existing Arduino to add functionality) and are packaged up in a toolbox with accompanying lesson plans and links to online learning resources.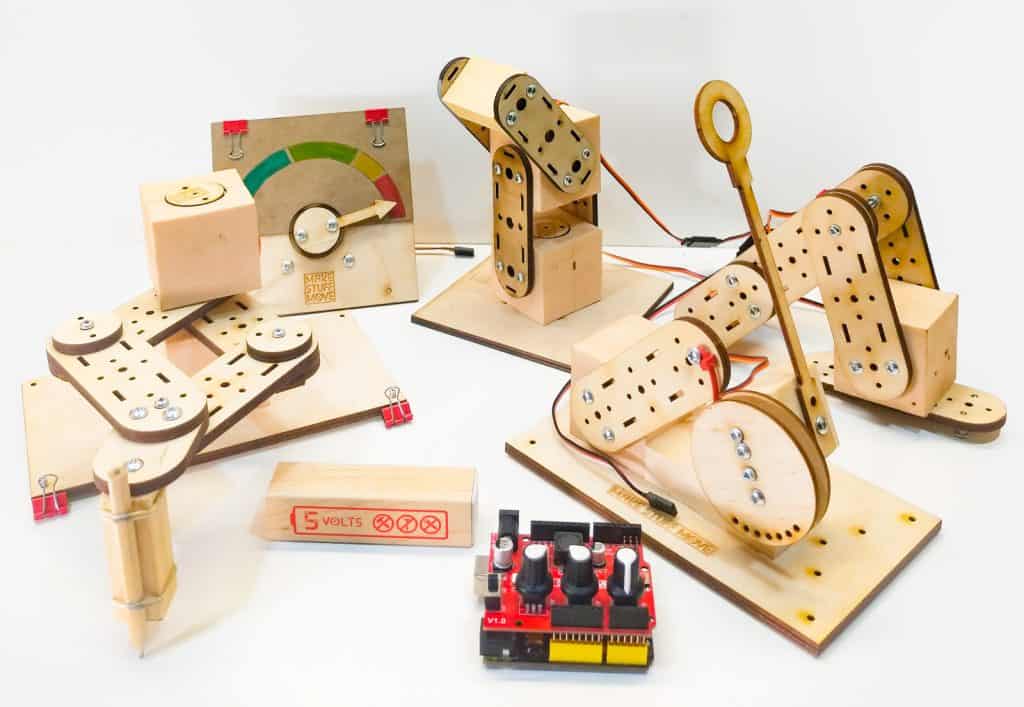 Restrictions that were put in place for locations like schools and makerspaces were particularly tough for Kitchen, whose philosophy is rooted in the kind of exploratory, hands-on approach that workshops encourage.
"I like to build stuff," says Kitchen. "I'm a firm believer in using common wood and screws and glue—not kits. I like Lego, I like Meccano. But with kids and learning, there's something about the confidence that can be gained when you're actually grabbing a piece of wood and a box of screws from the hardware store. Even if the result isn't as impressive, the experience is.
"Often with kids, that's all it takes—one time of seeing, 'Yes, you can use the drill. It's not an overwhelming piece of equipment. This is the part that will go through your finger; don't put your finger in front of that. The rest of it is safe.'"
Kitchen is a fan of the more tech-focused aspects of STEM, too. He spent years working as an animator, and has plans to develop an app that will draw on that experience and allow users to animate robotic creations, using a custom Arduino shield that can capture and record motion. In fact, he credits Arduino with getting him back into tinkering as an adult.
But his heart is in his toolbox.
"It's kind of a bait-and-switch with our kits," he says. "Like, 'Here, play with STEM and robotics and coding—but oh! Here's a screwdriver, here's a wrench. Here's a piece of pine.'"
"For me, it's all about understanding logic and problem-solving. That applies to both sides of the equation—whether you're building something, or coding something. It's the same thought process, overall. I feel like there's a real bridge between the two."
True to his ethos, Kitchen manufactures most of the materials in the kit at his InventArt studio in Kawartha Lakes, which keeps his process relatively simple.
"If we need to scale, it's kind of neat. I can just get another CNC machine and plunk it down beside the existing one, and I've just doubled capacity."
Currently, those who want to try a kit have to contact Kitchen directly through his website. Meanwhile, he's building out his studio using shipping containers, considering hiring staff to keep up with demand and preparing to launch an e-commerce option—and yes, there will be a basic bucket-on-wheels kit available down the road.
For more information and ready-to-go lesson plans, visit the Make Stuff Move website.