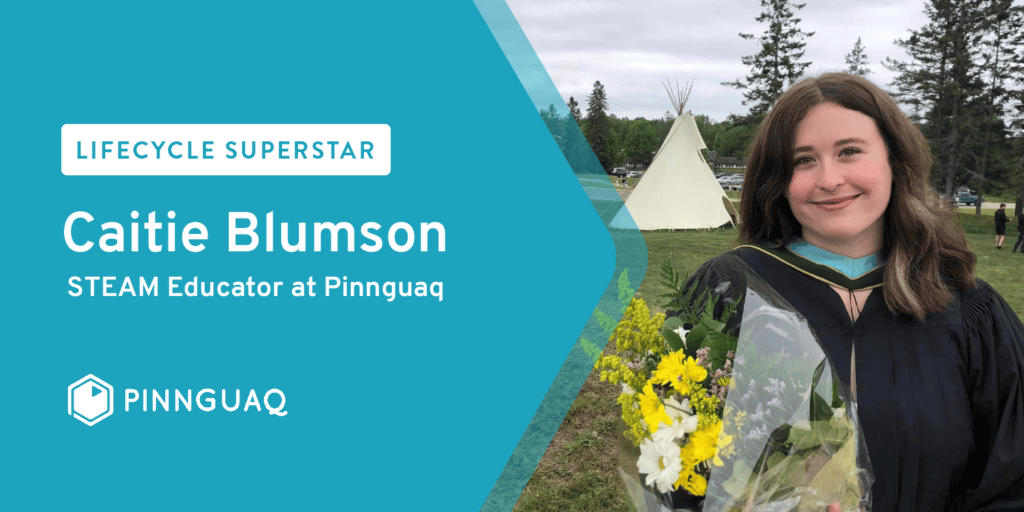 What is a Lifecycle Superstar? Pinnguaq's work is based on our Lifecycle model, with our learners in the middle. As they learn and grow, they can leverage education, assets and opportunities that help them realize success. One person may start as a learner, then work with us, gaining STEAM education experience. Another could receive an internship through Pinnguaq, benefit from our digital skills training, and then work with us to offer specific education. It's non-linear, and it's different for everyone, but the result is that we're there at multiple key points in our learners lives to help people grow and achieve, and we grow and succeed along with them. They're our LifeCycle Superstars – we're excited to share their stories. 
Caitie grew up in the Nbisiing (Nipissing) area and has had a life-long passion for working with/facilitating meaningful learning experiences for youth. She attended Trent University in 2017 for a BAH in Indigenous Studies, then, in 2021 she moved back home to complete her Bachelor of Education at Nipissing University, incorporating Land as a teacher whenever possible.
---
How did you first connect with Pinnguaq?
I joined Pinnguaq in March of 2023 as part of a Community Leadership Experience. The requirement was to spend 60 hours in a non-classroom setting, but I loved it so much that I ended up doubling my time with the Pinnguaq team.
When my placement ended I went back to complete my last in-classroom placement with the plan of moving up North to teach in the fall. I had heard the Pinnguaq team was hiring another STEAM educator and I couldn't stop thinking about my experiences here. So, I applied for the position at the end of March and was hired full-time in mid-April.
My placement ended on April 30, and five days later I had packed everything up and was driving to Lindsay!
---
What has been your favorite experience at Pinnguaq?
I've really loved building/maintaining relationships with local community partners – libraries, other non-profits, etc. And school visits! As someone who teetered between those two avenues (teaching in the classroom and alternative education) it feels really special to be able to blend those two passions!