Computer Fundamentals, Online Safety
---
Introduction
We've reached the end of this module series, and I'd like to finish by listing a few of my favorite online libraries. These sites are large and valuable repositories of knowledge, information, and answers.
Wikipedia
You've seen a page or two from this website in our examples. Wikipedia is an online encyclopedia. It's special because all the information is created by individual users, and can be edited and re-edited by anyone. This also means there's no guarantee that the information you find on this site is accurate.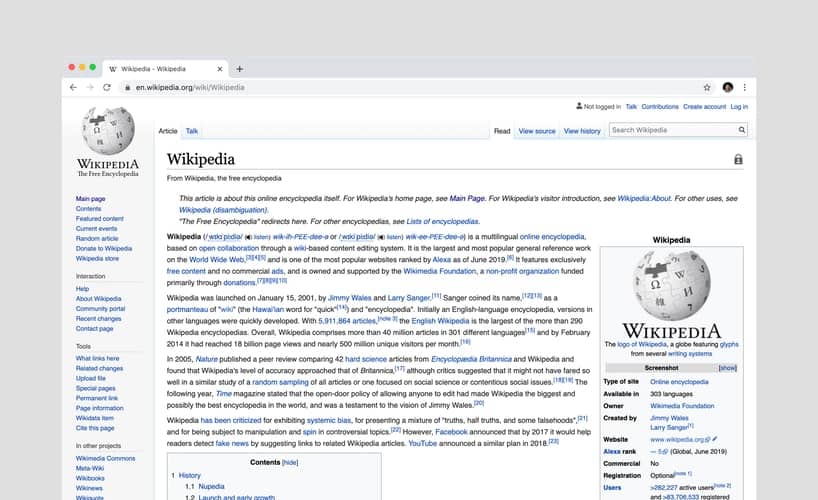 The Internet is a living technology: new sites are created while old sites are changed or removed. With such constant change, how do we keep a history of the Internet? The Internet Archive is an attempt to do this. Explore its Wayback Machine, particularly if you want to archive a webpage yourself.
Books are copyrighted to protect the rights of the author or the copyright holder; but each copyright only applies for a period of time, and after that the book belongs to the public domain. Anyone can reprint or redistribute a public domain book. Project Gutenburg is a place to find such books. Most of the books are older, but stories are stories, and you will find many great ones here!
YouTube
This site is owned by Alphabet, more commonly known as Google. YouTube is one of the biggest and best known sites for videos, in addition to Vimeo. YouTube is where you'll find the latest funny videos and memes, and other popular videos.
Online Thesaurus
I demonstrated earlier how search engines can be used as dictionaries, but there are specific dictionary and thesaurus online. They offer advanced tools and information, and can tell you all you've ever wanted to know about words!
There are several question and answer sites for technical, scientific, or other related subjects, such as:
Ask a question, or, if you're confident in a particular subject, you could answer some questions too!