And How We're Paying it Forward
They say that hard work pays off – while that's entirely true, even the hardest-working individuals benefit from a little help and support reaching their full potential!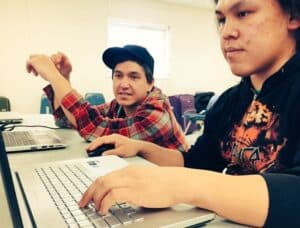 In 2016, Pinnguaq's te(a)ch program was given some truly incredible help – it was awarded an Arctic Inspiration Prize (AIP), to the tune of $400,000. te(a)ch was the name for our in-community delivery program (AKA: Code Club or what you may now know as our Makerspace or Community Workshops). It was only made possible by the support and partnership of Qaujigiartiit Health Research Centre (QHRC) and the Embrace Life Council/Isaksimagit Inuusirmi Katujiqatigiit. The te(a)ch program was co-winners with the Smart Ice Project, partners we are delighted to still be working with to this day.
That prize allowed us to expand the te(a)ch program for the first time outside of Pangnirtung with sessions in Arviat, Iqaluit, Chesterfield Inlet, and Baker Lake. Within 365 days of winning the prize we had delivered te(a)ch in almost every community in Nunavut.The Arctic Inspiration Prize provided us the much needed stability to refine and master our approach with te(a)ch and ensure it was having the largest possibly impact on Nunavummiut.
AIP is the largest annual prize in Canada, celebrating and providing seed funding to Northern teams with innovative project ideas who are looking to bring change to their communities.Without it, we wouldn't be where we are today – now it's time to give back.
We want to support and expand the AIP, so Pinnguaq has committed to contributing a minimum of $10,000 towards future AIP awards, every year, for as long as we can. 
We see this as an opportunity to create opportunity, and to support an initiative that's giving teams and organizations across the North the power to realize their potential, and their desired impact. There are very few funding opportunities in Canada that provide the type of flexibility and impact that the Arctic Inspiration Prize does. We are delighted that 7 years after having it propel the te(a)ch program to what it is today, we can give it back and ensure the same opportunity exists for the next big thing.
You can learn more about the Arctic Inspiration Prize and how it benefits Northern Initiatives on their website.