"Pinnguaq's purchase and renovation of the building at 12 Peel Street represents a 3x expansion of its facilities, and the launch of a hub for science, technology and arts activities for educators, students and creators"
---
The Pinnguaq Association today announced its purchase of the former Public Works Building located at 12 Peel Street in Lindsay, Ontario, and the launch of renovations to create a world-class STEAM education and entrepreneurship centre.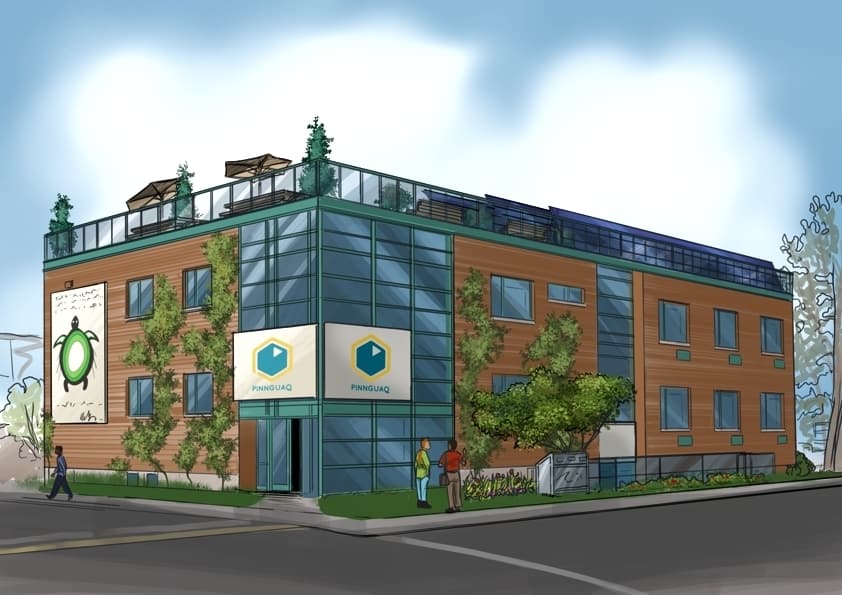 The 13,500 sq ft, three-storey building sitting in the heart of Lindsay represents a 3x space increase over Pinnguaq's existing location. Immediate renovation plans focus on the creation of a 4500 sq ft Makerspace where adult and youth education focused on science, technology, engineering art and math (S.T.E.A.M) will take place, followed closely by the migration of the company's 40+ Ontario staff facilities to the building's second floor. The building will also include offices and creative spaces for artists, not for profits and STEAM-focused businesses who share a desire to foster a thriving, dynamic community space in Lindsay's historic downtown.
"We're creating a space where artists, entrepreneurs and non-profits can all connect and grow," said Ryan Oliver, Pinnguaq's CEO. "It will feature a recording studio, streaming studio, offices and hotdesks, in addition to the Makerspace, to support local youth, educators and organizations. Our goal is to create a centre for innovation, creation, and STEAM education, in the heart of the Kawartha Lakes."
The building also features multiple accessibility features that will only be enhanced with renovation, including an elevator and wheelchair access.
Pinnguaq sees its investment in the community as much larger than the programming itself. The organization is working with O'Neil and Carroll, a Lindsay-based contractor, and Home by Tim + Chris, a Fenelon Falls-based design firm, to create a truly world-class environment for both learners and staff.
"Whether it's our programming, or renovations, we believe in partnering with communities," said Oliver. "Wherever possible, we'll work with local suppliers to ensure that everything we do is optimized and created with the people who will benefit."
In addition to the Lindsay Makerspace, Pinnguaq operates a Makerspace in Iqaluit, Nunavut, and supports another in Curve Lake First Nation. In 2018, Pinnguaq was a cofounder of the Katinnganiq Makerspace Network which was awarded the Smart Cities Award on behalf of the 25 communities of Nunavut to expand Makerspaces across the territory. These spaces are centres for health and community through STEAM and have opened or are opening in Pond Inlet, Cambridge Bay and Saniarjak.
"We believe that rural, remote and Indigenous communities – whether in the Kawartha Lakes, or in the Arctic Circle – should have the same access to STEAM education and digital skills training that people in urban centres have", said Oliver. "This building is a giant step in that direction for Lindsay and the surrounding area".