Overview
The Computers for Success Nunavut (CFSN) program helps to bridge the digital divide in Canada's North by providing technology opportunities for communities. Since 2016, we have provided over 1000 computers across Nunavut! CFSN is a part of the Government of Canada program Computers for Schools Plus, which has refurbished and distributed over 1.6 million computers, and offered more than 7000 paid internships nationally since its inception in 1993.
The program is administered by Pinnguaq with support from the entire CFS network across Canada – as well as the Department of Innovation, Science and Economic Development Canada (ISED) and Computers for Success Canada (CFSC). 
CFSN is part of our Pinnguaq Life Cycle. We enhance the program by offering digital skills and STEAM (Science, Technology, Engineering, Art, and Math) learning across Nunavut to ensure that children, youth, and adults have the technology and tools they need for equitable access to technology and connectivity.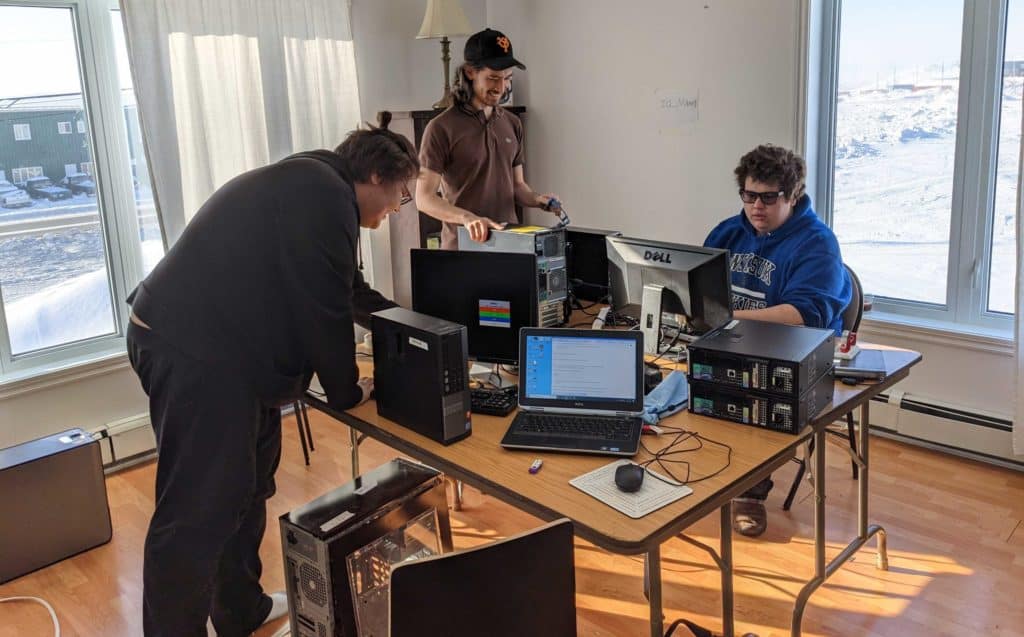 What CFSN Offers
The three objectives of Pinnguaq's work through the CFSN program are: 
Increase access to technology for Nunavummiut
Provide in-territory employment and training opportunities in the technology sector
Reduce e-waste by giving used computers a second life
Computers distributed are equipped with basic software to aid in academic or STEAM pursuits, including Blender (3D Modeling), Gimp (image processing), Open Office (word processing, spreadsheet, presentation, etc.) and Scratch (introductory programming).
The CFSN program is intended to support all Nunavummiut in need of a computer. There are no age restrictions regarding who qualifies for assistance through this program.
Participant Feedback
"I think this is such a worthwhile program to be able to get computers to people that otherwise can't afford them and with COVID being able to connect with friends and family across the territory has become so much more important. I have seen that when we get one computer to someone that doesn't have one the whole family benefits.

The participants in Kinngait were very happy with the computers and I left 2 with the hotel owner for her children so that they could do school online because they only had 1 tablet but two children trying to do school. She was very happy to be able to give them to her children."

Robynn Pavia of Ikajuqtuq Training & Consulting
Be Part of Our Mission
Join us in our mission to reduce e-waste and increase access to technology throughout Nunavut. We seek laptops, desktops, monitors, keyboards, mice and cables.
To make a financial or equipment donation or for more information, please contact us.
---
Apply for a Computer Today
If you are a Nunavut resident or represent a Nunavut based organization and would like to submit a request for a computer, please contact us.