Objects are items that you add to your presentation such as text boxes, clip art, charts and shapes. You can click and drag to move most objects.  You can also size most objects by clicking and dragging on the handles that appear when the object is selected.
---
Selecting Objects
To select an object, simply click on the object. To select more than one object, click and drag around objects you wish to select or hold the shift key while clicking objects. When an object is selected, small circles and squares appear around the object called handles.

---
Sizing Objects
Select the object and click and drag with the 2-headed arrow from one of the corner handles to keep the length and width in proportion.
---
Deleting Objects
To delete an object, select the object and press the delete key.
---
Insert Images & Illustrations
From the Insert Tab, in the Images group and Illustrations group, you can insert images and illustrations such as pictures, clipart, screenshots, photos, shapes, SmartArt and charts.
Pictures
Allows you to insert a picture.
Click the Pictures button
Choose from This Device, Stock Images and Online Picture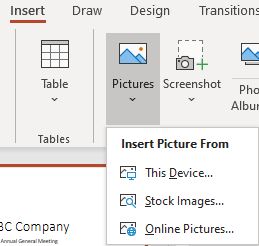 Insert Shapes
Allows you to insert various shapes into your presentation including lines, rectangles and other objects.
Click the Shapes button; this opens a menu of shapes
Click the shape you desire; this closes the drop box
Your mouse pointer will appear as a cross-hair; click and drag to create the shape within your presentation
---
Insert Text
From the Insert Tab, in the Text group, you can select a variety of text objects.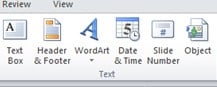 Text Box
Inserts a text box to the presentation or allows you to add text to the selected shape
Click the Text Box tool
Click or click and drag on your slide
Type text
When your text box is selected, you will have access to the Drawing Tools from the Ribbon, allowing you to easily format the selected text box.