Files are items such as letters, memos and program files that contain data.
Folders are storage areas (like drawers in a filing cabinet) that hold information.
Documents should be saved often to reduce the risk of losing your files.
Storage locations for your files and folders are identified by letters followed by a colon. Storage locations may include one or more of the following.
Hard Drive

files are stored directly on to your device; the most common letter for your hard drive is C:

USB Drive

a small storage drive that you can insert into your device and remove as needed

Cloud Storage

files are stored onto a remote computer that is owned and maintained by another organization such as Microsoft OneDrive

Network Drive

a large computer that is maintained by your business organization and may be stored in the same building or off-site
Save As Command; Saving a Document for the First Time
There is more than one way to save a file, options within the MS apps include:
Quick Access Toolbar
File Tab
---
Quick Access Toolbar
You can click the SAVE tool from the Quick Access Toolbar.

Circular arrows that appear on the lower right corner of the Save button indicate that this document will default to save to Cloud Storage location.

If you turn AutoSave on, then your document will automatically save.
From the Save or Save As file dialog boxes, you can change the File Name and Location or choose More options.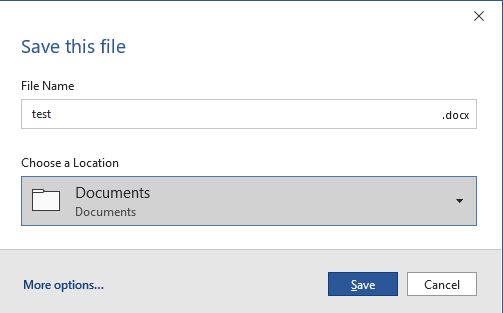 ---
File Tab
You can also click the File Tab from the Ribbon and choose the Save As option.
From the Save As window, choose the location where you wish to save the document then either choose a folder or click Browse.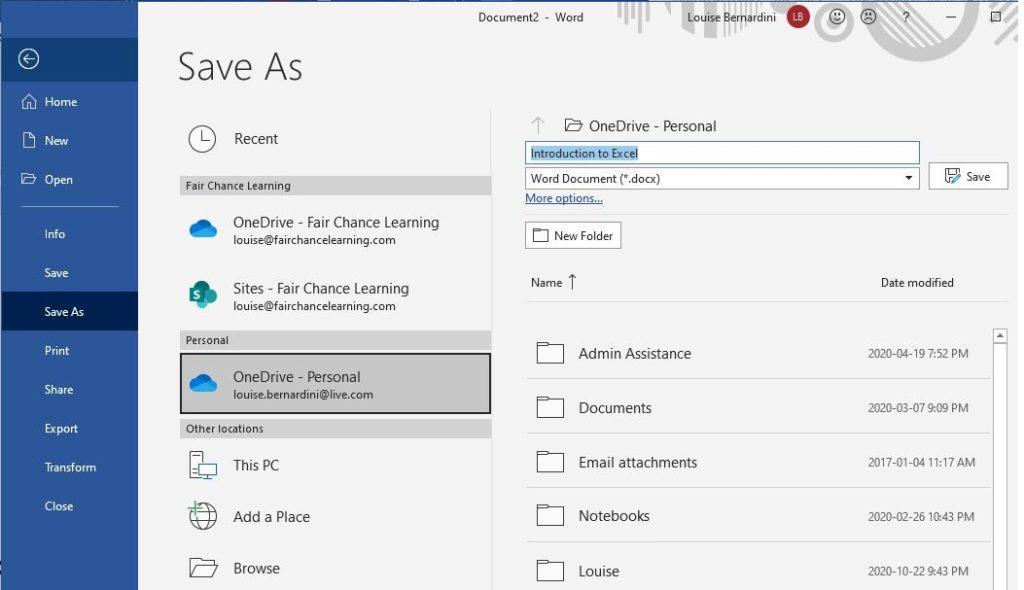 If you choose Browse, the Save As dialog box will appear.
Select the location (desktop, inside a folder or create a new folder)
Change the File Name if necessary
Change the file type/save as type, if necessary (for details see Section 2: Saving in Different Formats)
Click the Save button